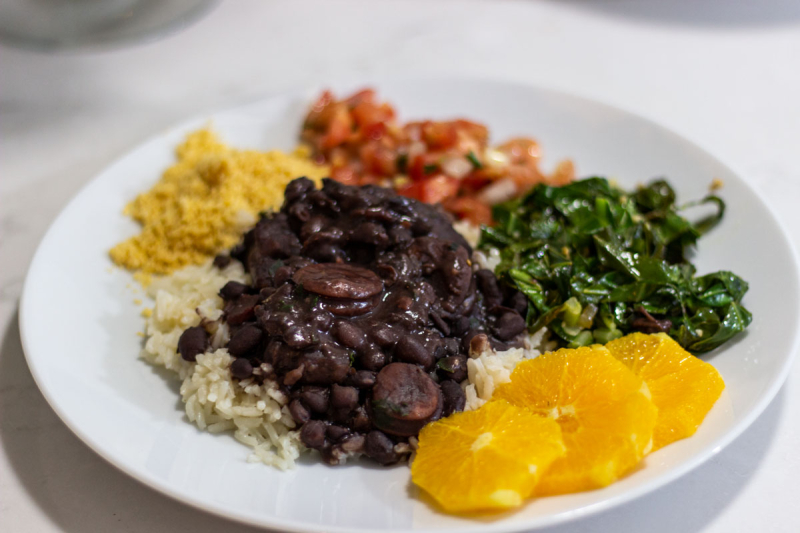 We learn so much about culture and lifestyle through food. Join Silvia Mathewson for four "evenings in Brazil" as she prepares dishes from her native land. While she's cooking, she'll reflect on her life and culture. The dishes highlight the rich and varied Brazilian cuisine, and are as warm comforting, rich and vibrant as the music, people and culture of Brazil.
Feijoada is a black bean stew that is cooked with a variety of salted and smoked meats. The rich, smoky stew is served with rice, greens and orange slices, topped with toasted cassava flour (farofa).
For special occasions, Muqueca, a dish of Angolan origin, typical of the states of Northeastern Brazil. It can be prepared with various types of fish and shellfish and stewed with onions, tomatoes, peppers, coriander, coconut milk and Dende.
Finally Xinxin, another dish of African origin adopted to the cuisine of the State of Bahia. Composed of chicken, peanuts, cashews and tomatoes.
We'll send you a handout with ingredients and recipes, as well as a map of Brazil (maybe even some musical suggestions) so you can prepare and get the most out of your experience. If you want to cook along, just purchase the ingredients and prep them before each class, or you can just watch and enjoy. This is a live online class.
Silvia Mathewson came to Maine from Brazil in 2016 with her American husband. Here she took up the study of English and, two years later, began to teach cooking classes for continuing education programs, drawing on her knowledge of Brazilian cuisine. With a background as an archivist and historian, having worked with cultural institutions and political consulting firms, she found it was time to launch a new career.